Lock-Keeper is a high-level security solution based on the simple idea of "Physical Separation". It is a hardware-based device and works like a sluice to provide secure data exchange between physically separated networks. Based on the simple principle that "the ultimate method to secure a network is to disconnect it" the Lock-Keeper can entirely prevent session-based and protocol-based network attacks (i.e. so-called "online attack") by physically isolating your sensitive network from external world.
Both the principle and architecture of Lock-Keeper are quite simple. It is not proposed to replace the functionality of the conventional firewall but generally used in combination with firewall to enhance the security of the protected network. Moreover, other security approaches, such as anti-virus software, content scanning tools, authentication modules and access control mechanisms, etc., can be flexibly integrated with Lock-Keeper to prevent some application-level attacks, also referred to as "offline attacks".
The Lock-Keeper system is manufactured and vended by Siemens Switzerland Ltd, Civil And National Security. Marketing, consulting and sales services are supported by Actisis GmbH. Research and development are conducted at Hasso-Plattner-Institute.
The Highest Level Protection of the Internal Network
Implementation of the security principle of "Physical Separation"
Flexible Design based on the security concept of "Secure it first, build it later"
Simple and Seamless Combination with other Third-Party Security Methods
Additional Functionalities with Enhanced Security:

Integrated Application Proxy/Server for File/Email-Exchange
Reliable Replication between heterogeneous Databases
IPv6 over Lock-Keeper
Secure Web Service Gateway
Strong and Federated Authentication for SOA Environment
Trusted SIP-based Mobile Payment Framework
......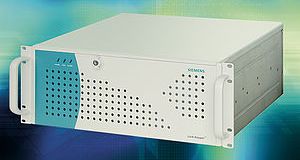 (Lock-Keeper Siemens, till 2012)



(Lock-Keeper Atos Origin, from 2012)
The guarantee of the highest-level security, the simplicity of the architecture, and the free scalability of the integrated application level security are the primary strengths of the Lock-Keeper solution. Thanks to these benefits, the Lock-Keeper can totally satisfy the security requirements from most public authorities, national defence institutions or companies with a highly sensitive IT infrastructure, such as:
Military and governmental organizations
Financial sections
Energy suppliers
Telecommunication companies
Transportation companies
Air traffic control
......
About Hasso Plattner Institute (HPI)
Hasso Plattner Institute for Digital Engineering (HPI) gGmbH in Potsdam is the only university institute in Germany that offers an undergraduate (bachelor) and a graduate (master) course of study as well as PhD program in IT Systems Engineering -a practice- and engineering-oriented alternative to conventional computer science studies. Current enrolment is at about 450 students. HPI employs 50 professors and contract teachers. HPI conducts excellent research, not least for high-level industry and business partners. The primary area of research is the basics of and applications for large, highly-complex, and cross-linked IT systems.